You are feeling stressed and anxious - this is a common symptom called Stress, if illnesses like colds and flu can be diagnosed with specialized tools, psychological conditions will be difficult to check. . That's why 15minutes4me is a tool to help you determine your body's stress and anxiety. This article KingNCT will help answer the question what is 15minutes4Me and how to use this application !
[caption id="" align="aligncenter" width="800"]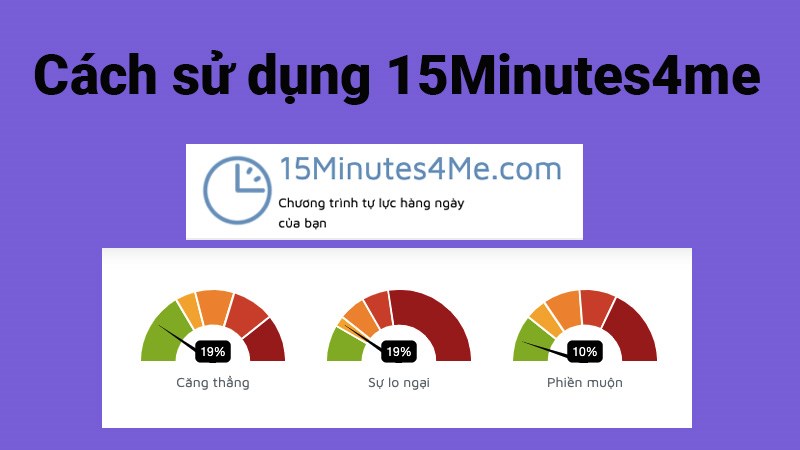 What is 15Minutes4Me?
Instructions on how to use the Online Stress test application at home
[/caption]
What is 15minutes4me?
15minutes4me is a software that helps test the level of stress and anxiety that your body is facing through an online test right on the website. This application helps you to accurately identify your best friend's condition before the risk of depression so that appropriate measures can be taken.
15minutes4me's test system was developed by the research of leading doctors in neurology and psychology with the aim of helping patients to self-check their depression status online at home. .
What is stress?
Stress is a nervous state of extreme excitability, consisting of many points such as physics, chemistry and the response of an individual trying to adapt to a change or pressure from outside or inside. When faced with a stressor, the body will produce hormones that help provide strong nutrients to the muscles, breathing faster, heart rate is increased.
[caption id="" align="aligncenter" width="284"]
What is stress?
[/caption]
You can see more about this situation in the following content according to Vinmec's specific explanation:
How to use the latest 15minutes4me application 2022
After knowing what 15minutes4me is, here we invite you to join KingNCT to explore the great features that this test brings!
Here is a guide on how to use 15minutes4me to take the mental health test. To conduct the test, do the following:
Step 1: Access 15Minutes4Me by this link: https://www.15minutes4me.com/ , you can take the test in English or if you don't understand English, please install the Extension to automatically translate into Vietnamese for ease of doing. (Link for self-translating extension is below)
Step 2: Select " Start your self-test now" or " Start your-self test now"
Step 3: Please proceed to answer each question that appears on the screen
Step 4: Your mental health status will be summed up after you complete all the questions of the test.
Detailed instructions on how to use 15minutes4me
If you read through the instructions above and you still don't understand the exercises, that's okay, KingNCT will guide you in the most specific and detailed way to take the 15minutes4me test through the following image.
Step 1: Visit 15Minutes4me website: https://www.15minutes4me.com/ . If your browser shows a language switch then click on it, otherwise just do English.
[caption id="" align="aligncenter" width="717"]

You should stay in English if your reading comprehension is good.
[/caption]
Step 2: Select Start your self-test now . (Start your-self test now)
[caption id="" align="aligncenter" width="647"]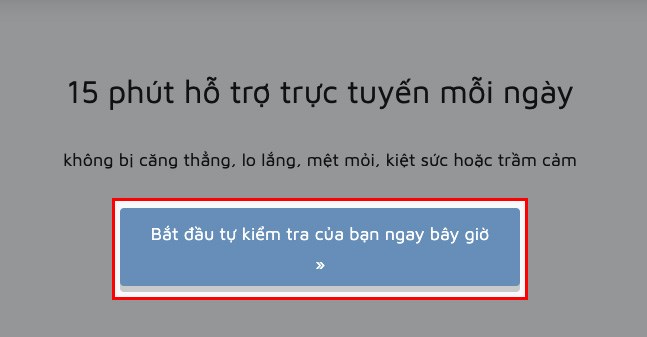 Select Start your self-test now
[/caption]
Step 3: Proceed to select the answers for each question displayed on the screen.
[caption id="" align="aligncenter" width="750"]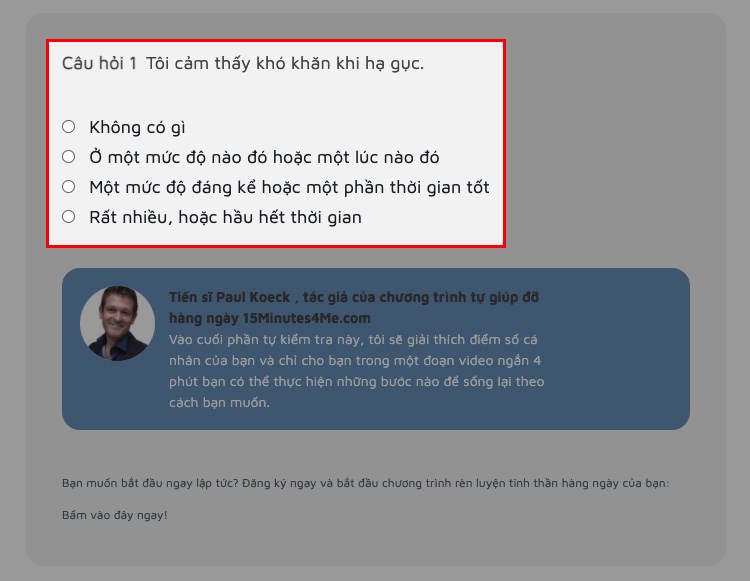 Please answer the questions that appear on the screen
[/caption]
Step 4: Your mental health status will quickly be displayed in the form of a chart. This will help you soon assess the relative level of your health status.
[caption id="" align="aligncenter" width="772"]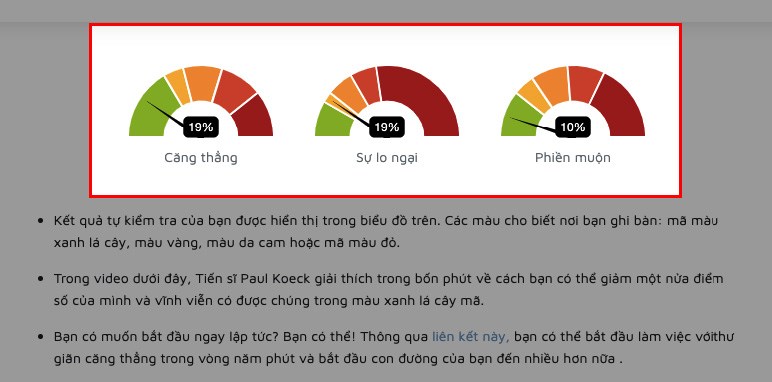 You will receive a mental health assessment chart after completing the test
[/caption]
What is Inbound Marketing? The secret of the most effective application
Video tutorial 15minutes4me
To use 15minutes4me effectively, please watch the following video to know how to perform the test to quickly check your stress, anxiety and stress levels.
[embed]https://www.youtube.com/watch?v=LlDBx5WbbGE[/embed]
Some frequently asked questions when using 15minutes4me
Summary of some questions that you often ask when taking the test.
How does '15Minutes4Me.com' work?
During the program, you get to know yourself better, gradually discerning what works for you and what hinders you. You get questions that help you discover the solutions that have moved you forward. By increasing your confidence, you learn to find and find solutions on your own.
What does this test offer?
Understanding and realizing that you can solve your problems is the first step towards a life of more joy. The program asks you solution-focused questions, so that, with the help of self-control exercises to stop negative thoughts, you will realize that your problem will be solved. . This is done by, among other means, video clips with exercises, charts for you and your GP, theoretical insights, etc.
Who is the developer of the application 15Minutes4Me
This app is personalized developed by the doctor. Check your stress, anxiety or depression risk with a free quiz and take action afterwards via the app daily. Neuropsychologists have developed 15Minutes4me to help identify depression in its early stages.
What should I do if anxiety and stress are high?
You should contact a psychologist or seek help from a loved one. Personally, I think there's nothing better than dropping everything and going away for a while.
Between Wordpress and Shopify, which platform to choose is good!
summary
Above are all the answers that KingNCT wants to send to you about what 15minutes4me is and how to use this application. Stress is one of the extremely difficult problems in today's era, when the pace of technological life is faster and faster, the rate of people suffering from depression also increases. So take this test on 15minutes4me to soon accurately determine your mental health to have an effective remedy.